Dental check-ups
Regular dental check-up  –  visits ought to take place every 6 months and every 3 months in the case of people with periodontal diseases. Children that are over three years old should also visit a dentist every 3 or 4 months.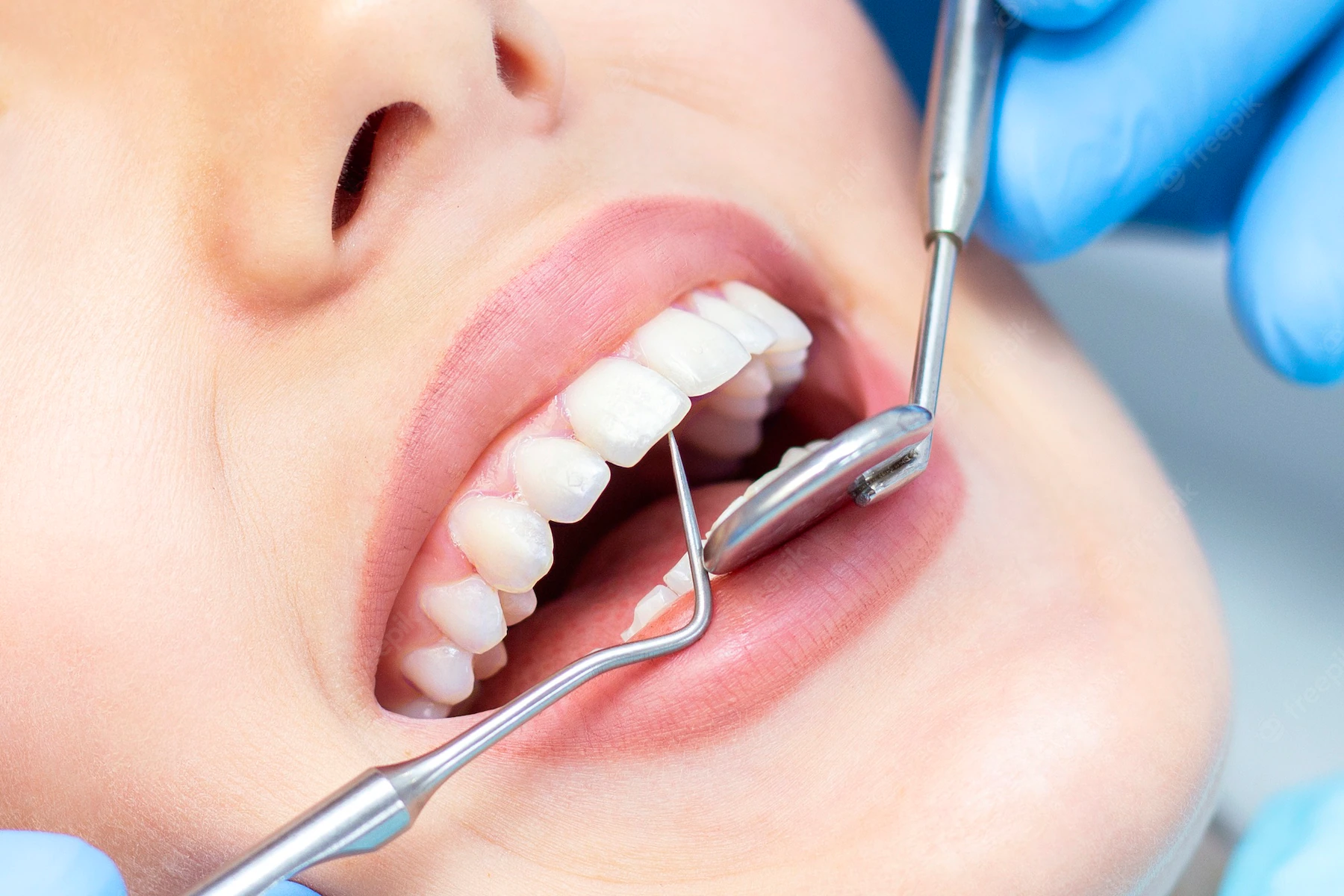 Conservative dentistry
If it happens that in spite of our strenuous efforts the tooth decay develops an anti-cavity treatment ought to commence. It consists in removal of the affected tissue by the dentist and the filling up of that place with the restorative filling.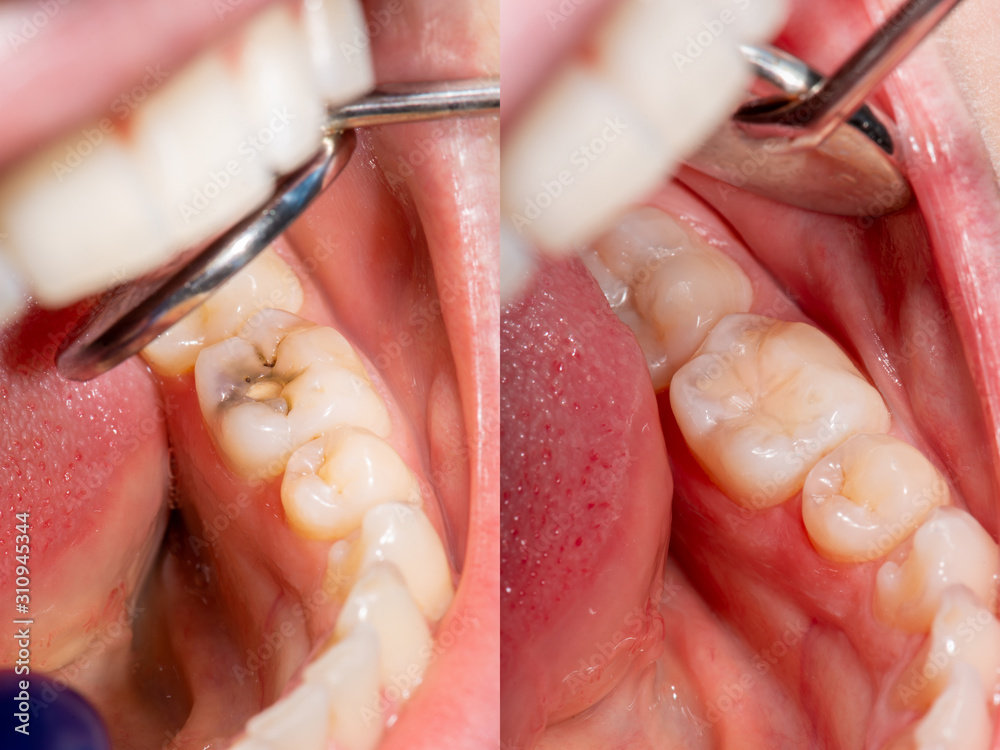 Pediatric Dentistry
We have wonderful paedodontists in our team in order to take care about our youngest patients. Thanks to the understanding approach, unusual patience and realization of the worries and needs of a child, every young patient undergoes the treatment with pleasure, and memories regarding the visits in dental clinic cause expression of pleasure on child's face.
The team of employees of our clinic takes care that the time of waiting for the visit passes in a friendly atmosphere, and they take the youngest patients to the play area.
Thanks to visits at our place your children will not only get to know how to take care of their teeth from a very young age, but they also stop being scared of a dentist.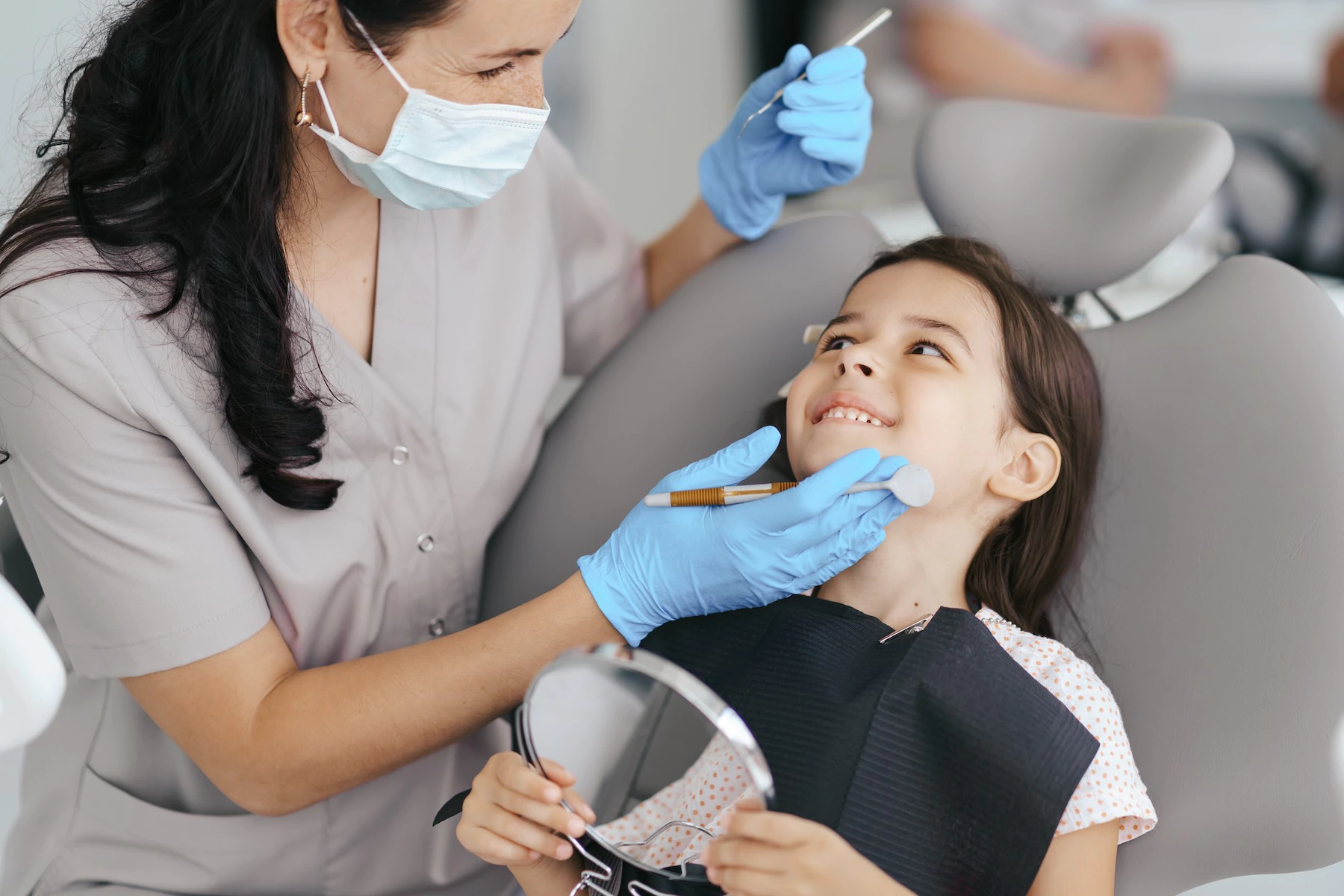 Cosmetic dentistry
The purpose of the cosmetic dentistry is restoration of healthy and beautiful appearance to your teeth and smile and this helps in preservation of harmony of the whole face.
It is applied when you wish to:
* brighten up the colour of your teeth;
* get rid of persistent changes in colour that are caused by drinking coffee, tea, red wine, nicotine or taking antibiotics;
* replace the old unaesthetic quality fillings with the new and invisible ones;
* correct the shape of uneven, too small, partly broken off and worn-out teeth;
* correct the position of crammed, separated or rotated teeth;
Our clinic offers plenty of modern solutions that meet your expectations and doctor's orders for individual patients.
Among them are the following:
* teeth bleaching during 1 visit;
* prosthetics solutions such as porcelain veneers, inlays, onlays, overlays, bridges and crowns;
* invisible fillings made out of the highest quality composite materials as well as reconstructions made with the help of glass fibres;
* malocclusion correction with the help of permanent and movable braces.
Teeth whitening
In order to meet the expectations of our patients that gets bigger and bigger, the cosmetic dentistry introduces newer and newer systems of teeth bleaching.
1. We prefer the American BEYOND system which takes advantage of the cold light of 480-520 nanometres wave length that stimulates activity of hydrogen peroxide. This allows in a short time distance (about 30 minutes) for bleaching all the teeth effectively and safely and making them even several tones lighter.
The treatment is conducted in a dental cabinet under a supervision of a doctor, which makes it possible to use bleaching substances in significantly higher concentration than in preparations assigned for home use.
Making use of an aspirator and light curing cofferdam, which keeps the gums safe, allows for conducting of the treatment that is completely safe for the patient. After all, white and beautiful teeth constitute an extremely precious asset, nowadays.
2. Teeth bleaching during the night (nite white) is a special cosmetic treatment which allows for teeth bleaching at the time of the sleep by the patient himself. A doctor makes special braces for the teeth for a patient and a bleaching gel is placed inside the braces. This method is safe and effective; however it demands patience from the patient, as the bleaching process lasts 21 nights.
3. Walking bleach – consists in bleaching of an individual dead tooth.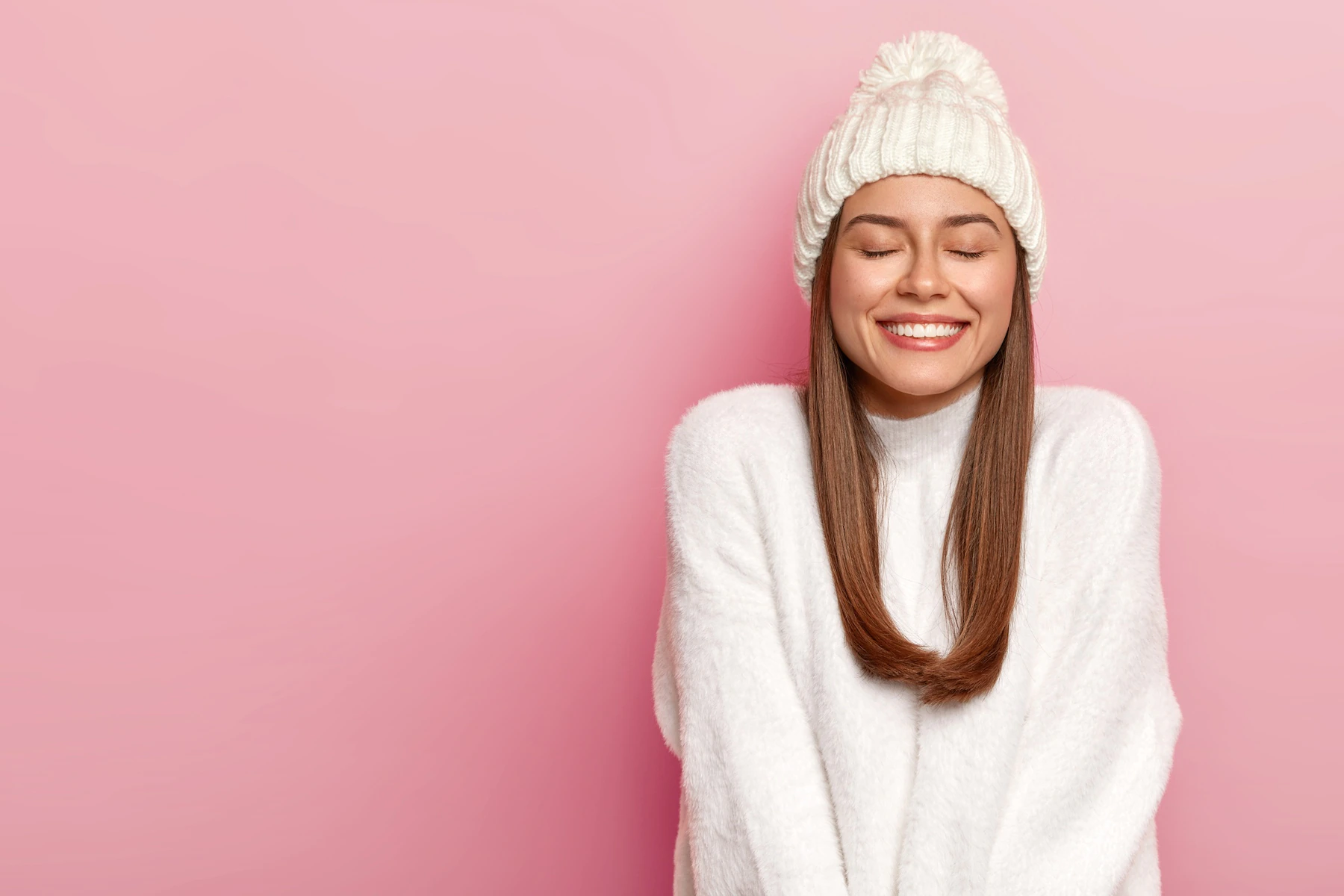 Dental prevention
Dental prevention is the most effective way to preserve healthy teeth and beautiful smile for years.
We suggest the following methods of prevention with regard to gum and teeth problems:
* regular dental check-up visits;
* dental hygiene training;
* ultrasonic removal of tartar and deposit from the teeth;
* sand-blast (air-flow) cleaning;
* polishing and fluoridating;
* pit and fissure sealing;
* applying varnish;
* impregnation of the dentine.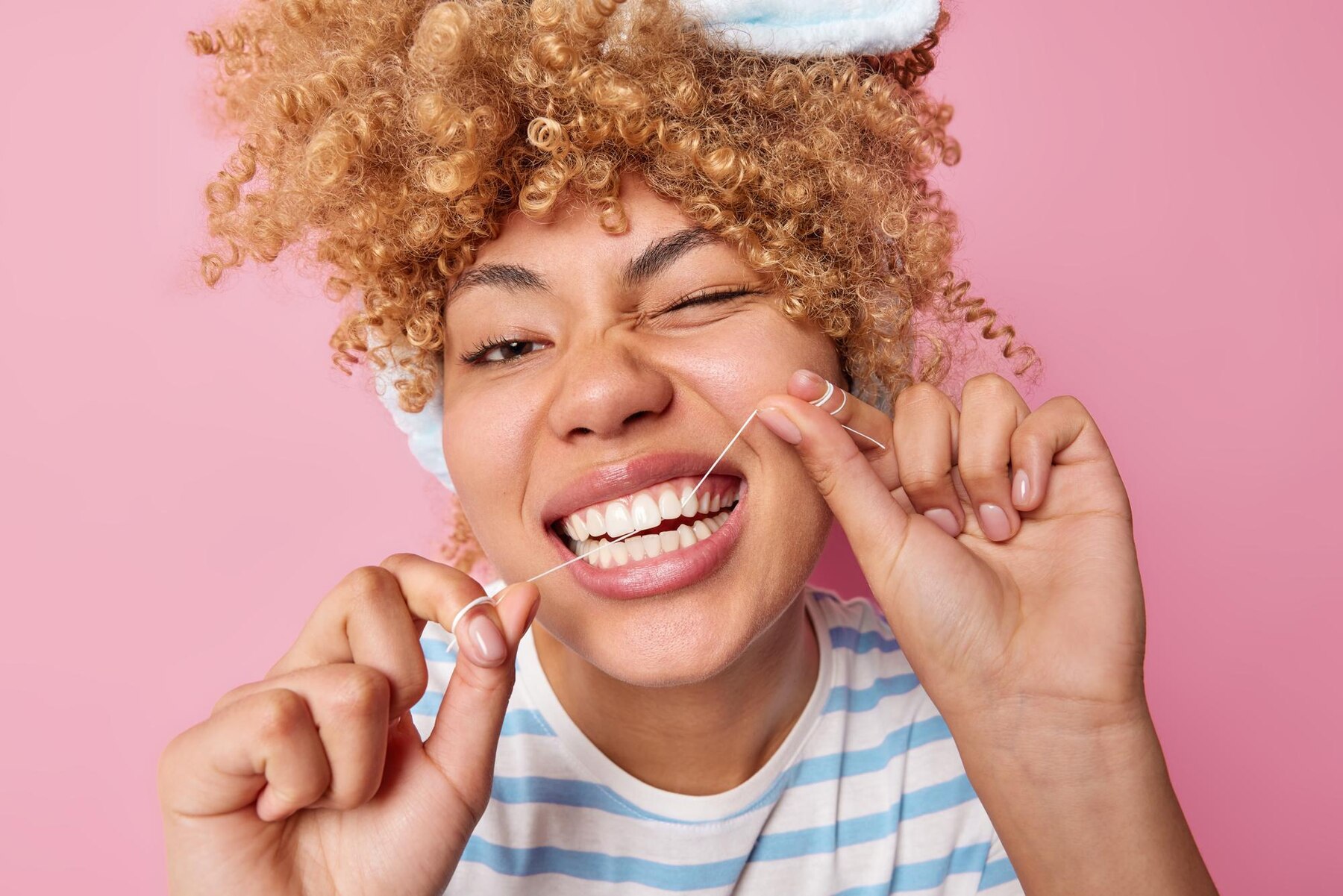 Endodontics, Microscope endodontics
Root canal treatment (endodontics) constitutes one of the most dynamically developing fields of dentistry. Thanks to the achievements of modern endodontics it is possible now to cure teeth that were formerly earmarked for pulling out and had no chance to be cured.
In our place we cure difficult entodontics cases with a high percentage of success and our patients derive satisfaction from the fact. It is possible due to invaluable skills of our doctors, application of modern equipment, advanced diagnostic radiology and electrodiagnosis, machine elaboration of root canals.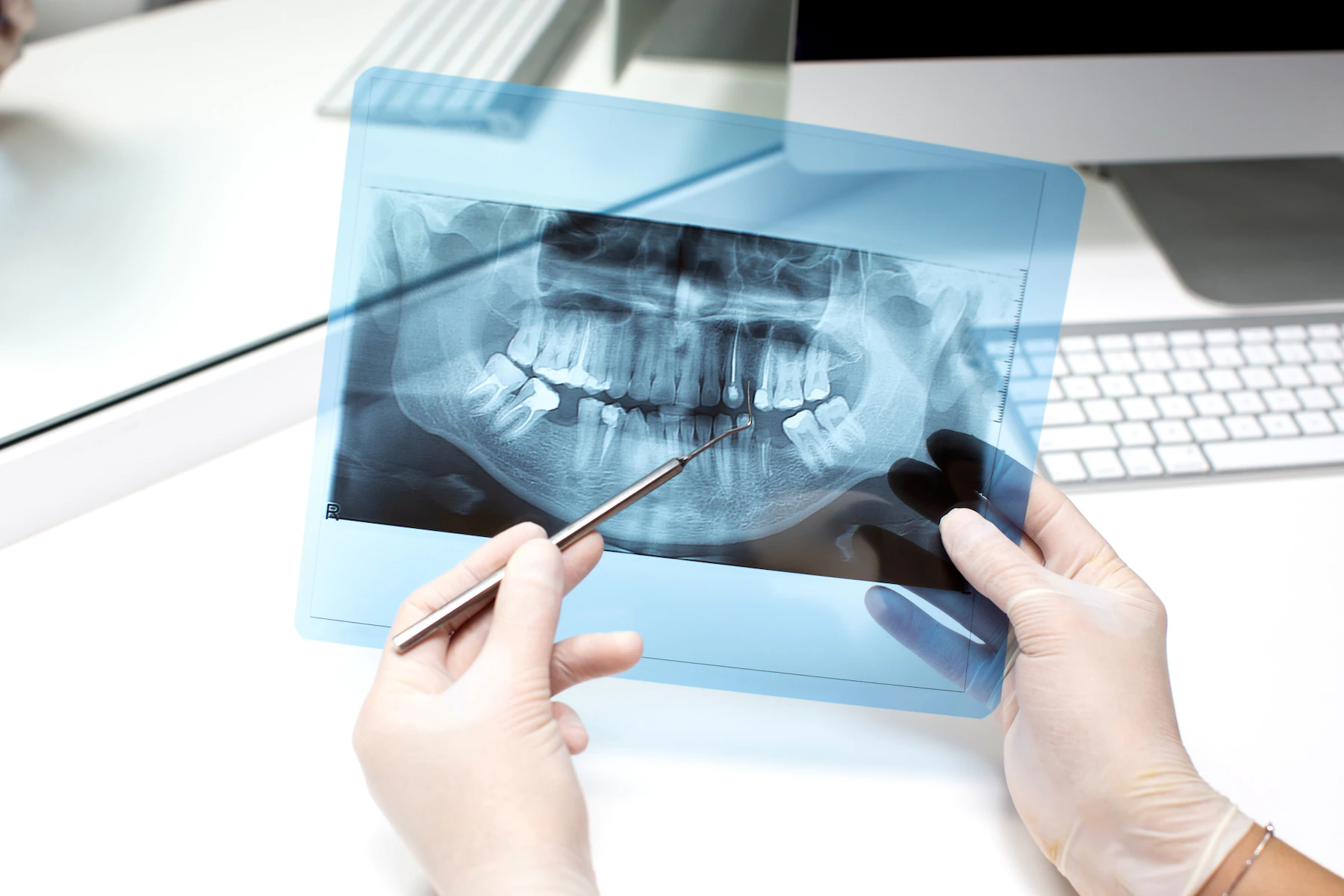 Prosthetics
At our place we make all kinds of prosthetic restorations. Their common features encompass aesthetic qualities, durability and convenience in use. As they are manufactured with the highest quality materials they cannot be distinguished from one's own teeth.
In addition to standard solutions, such as:
* porcelain-faced crowns;
* all ceramic crowns;
* crown inlays: inlays, onlays;
* bridges;
* skeletal dentures;
* acrylic dentures: full and partial ones;
we offer at our place combined prosthetic works. These are dentures which combine fixed and removable elements, e.g. crowns and skeletal dentures:
* dentures fixed on implant pillars – overdentures;
* entures with various poppers, latches, bolts and telescopic crowns.
Having own laboratory is an invaluable asset in prosthetic treatment. Such a solution makes direct co-operation of the doctor – patient – dental technician type possible, which results in high quality works not only in technical regard, but most importantly with regard to aspects of aesthetic qualities and comfortable use.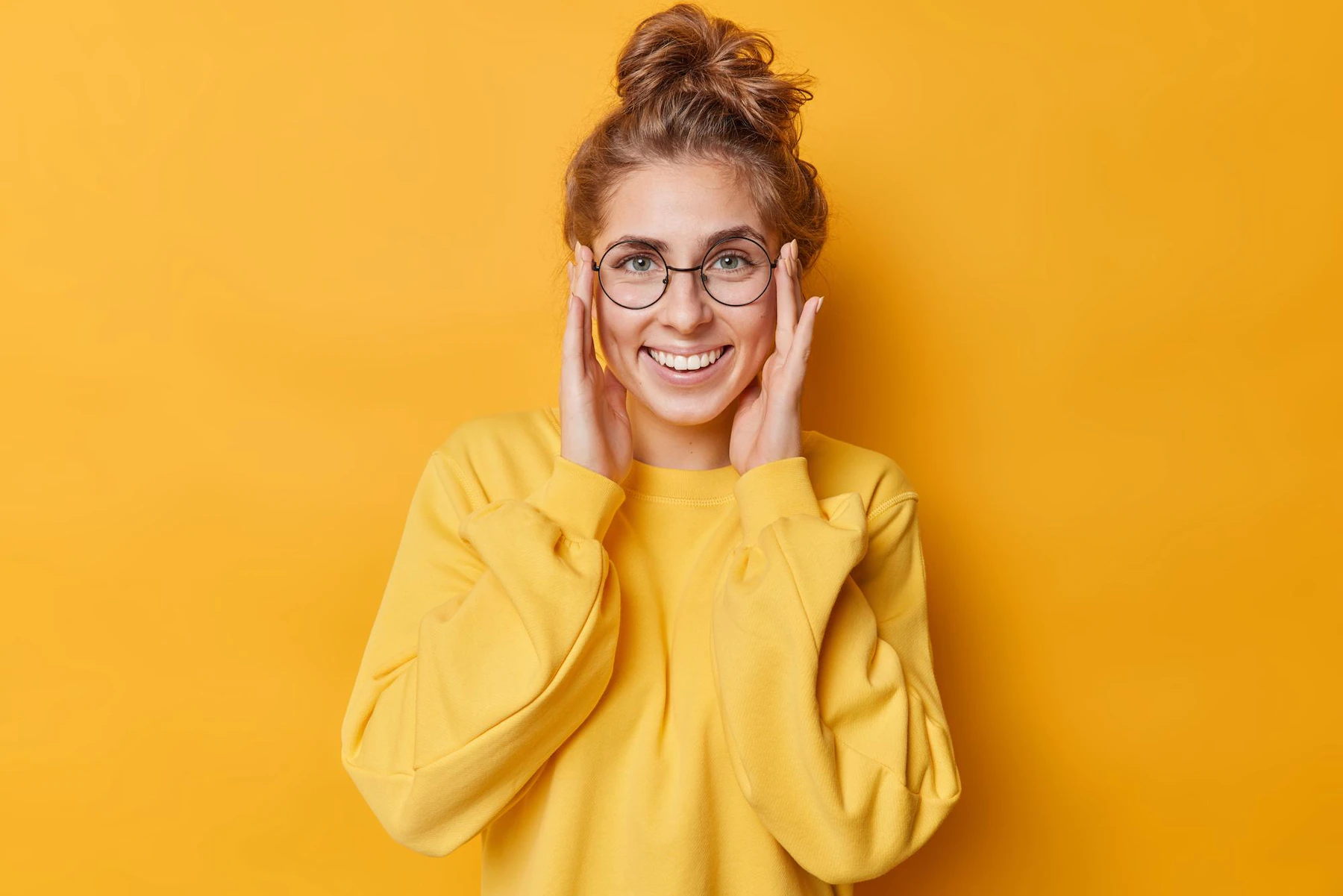 Dental surgery
* Pre-prosthetics surgery
* Tooth injury treatment
* Extraction of the milk teeth
* Extraction of the permanent teeth
* Extraction of "wisdom teeth"
* Cyst removal
1. Extraction – The essence of pulling out of a tooth consists in separating it from its surroundings and taking it out form the tooth socket. Doctor's skills and co-operation on the part of the patient facilitate correct completion of this operation and prevent development of complications. However, we have to keep in mind that tooth extraction is the last resort and we make every effort possible to prevent such an event.
2. Treatment of injured teeth – teeth injures most frequently concern children (skates, roller blades, bicycle, accidents at school and kindergarten) but they also happen to adults (stumbling, road accidents). Each time such a thing happens one ought to visit a dentist's surgery as quickly as possible! It depends on the kind of injury, but often a tooth may be saved with the help of conservative or prosthetic treatment; however extraction of the whole or part of the tooth may also be necessary.
3. Pre-prosthetics surgery – this is the preparation of the oral cavity for prosthetic treatment, which enables us to make the most functional and comfortable prosthetic filling. It covers pulling out of the teeth, smoothing of deformations, and removal of pathological changes to bones and soft tissues.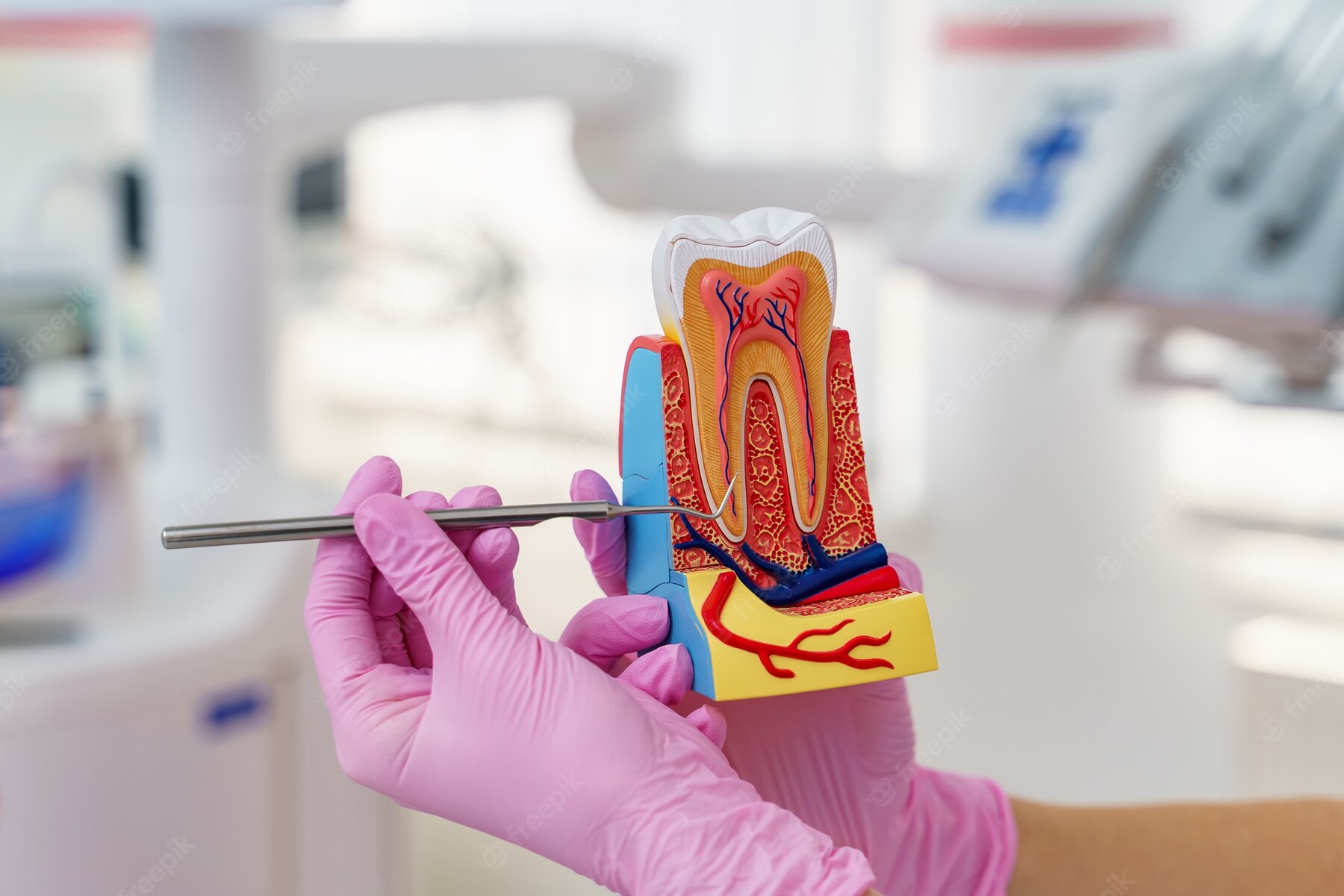 Periodontologia
To dział stomatologii zajmujący się leczeniem chorób przyzębia (czyli tkanek otaczających zęba) i błony śluzowej jamy ustnej. W naszym gabinecie zwracamy szczególną uwagę na tą dziedzinę stomatologii ze względu na to, że zdrowe przyzębie jest warunkiem utrzymania zdrowych zębów. Krawawienie z dziąseł, odsłonięcie szyjek zębowych, nadwrażliwość czy ruchomość zębów, nieprzyjemny zapach z ust ( halitoza ) to jedne z objawów wymagających diagnostyki periodontologicznej.
* zabiegi higienizacyjne z usuwaniem kamienia poddziąsłowego
* Vector Paro
* Kiretaż mechaniczny i laserowy
* Instruktaże higieny z wybarwianiem płytki nazębnej
* laserowe leczenie zmian na błonie śluzowej
* leczenie paradontozy z indywidualnie dostosowanym planem leczenia
Leczenie endodontyczne pod mikroskopem
Zabieg wykonywany jest w pozycji leżącej, w koferdamie (izolacja pola zabiegowego) z zastosowaniem odpowiedniego sprzętu i materiałów dostosowanych do potrzeb danego przypadku. Leczenie endodontyczne w naszym gabinecie przeprowadzane jest w oparciu o badanie RTG lub CBCT. *Leczenie pierwotne oraz powtórne kanałowe ( reendo )
* Usuwanie złamanych narzędzi
* Leczenie kanałów dodatkowych
* Leczenie z wykorzystaniem materiałów Bioceramicznych
* zamykanie perforacji materiałem MTA / BIODENTINE
* leczenie przez korony protetyczne
* Usuwanie wkładów koronowo-korzeniowych i wkładów z włókna szklanego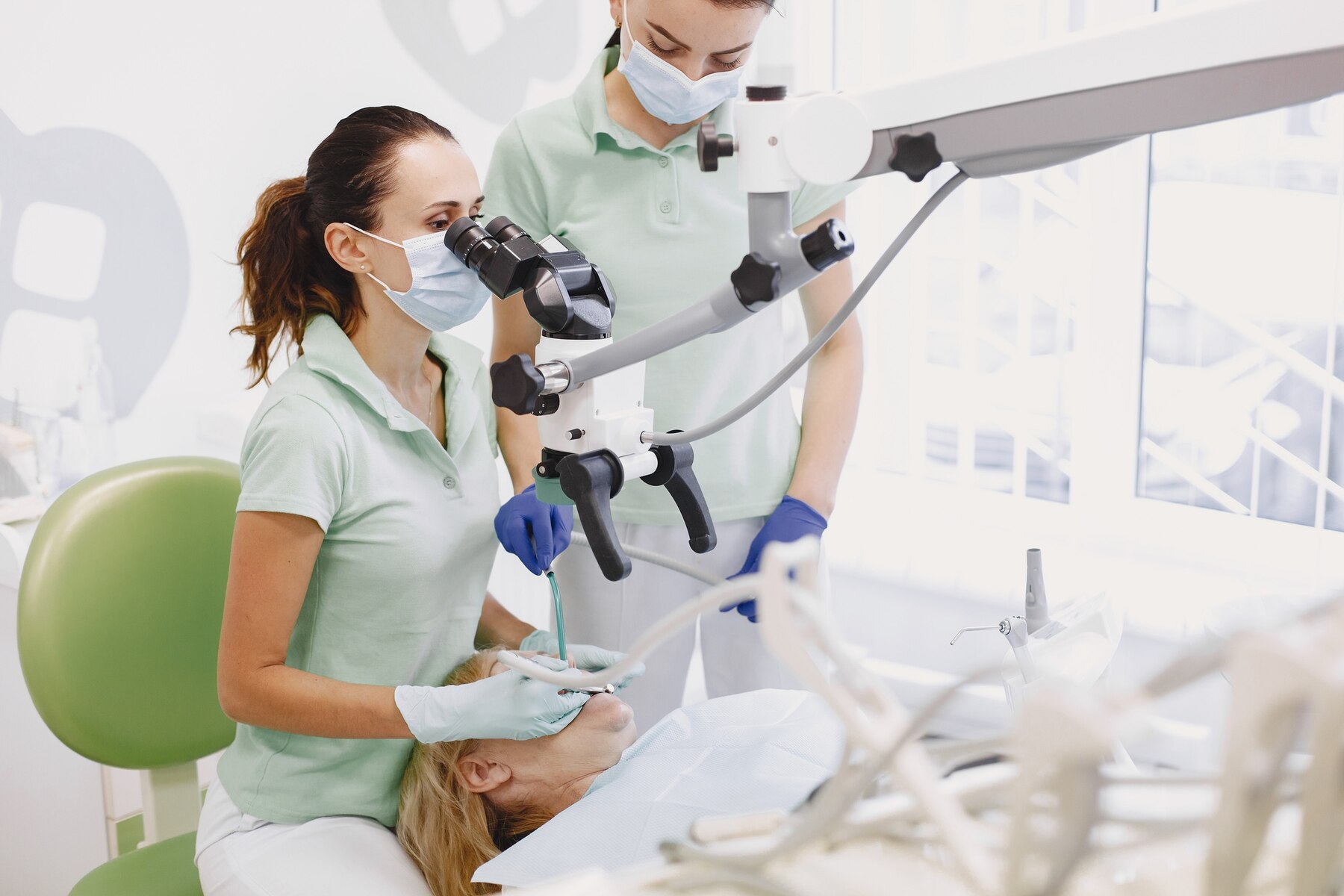 Laser
* Leczenie zmian na błonie śluzowej
* Biostymulacja pozabiegowa
* wycinanie zmian na błonie śluzowej, wycinanie nawisów dziąsłowych
* Leczenie opryszczki
* wydłużanie koron klinicznych, plastyka girlandy dziąsłowej
* biostymulacja endodontyczna
* Kiretaż laserowy